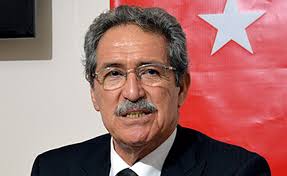 Prof. Dr. Orhan KAVUNCU
He was born in 1949 in the Bahçe district of Osmaniye. He completed his primary, secondary and high school education in Kahramanmaraş. He graduated from Ankara University Faculty of Agriculture in 1971. In 1977, he received the Doctor of Science title with the thesis he wrote in the Department of "Agricultural Genetics and Statistics" of the same faculty. Between 1981-82, he studied Theoretical Population Genetics at the University of Alberta, Canada, with a postgraduate scholarship.
He became an associate professor in 1984 and professor in 1991. Between 1993-1995, he worked as the deputy rector of Kazakhstan Hoca Ahmet Yesevi University. In 2004, he became the Founding Rector of the Vocational Career and Economics University in Almaty, Kazakhstan. He worked in the Department of Biometrics and Genetics in Ankara University Faculty of Agriculture until April 2016. He is currently a lecturer at Kastamonu University, Faculty of Engineering and Architecture, Genetics and Bioengineering Department and the Director of the Turkish World Application Research Centre. He has published more than 30 research and review articles in the scientific field, 10 textbooks, 3 of which he is a co-author.
Orhan Kavuncu, who has carried out intellectual work since his student years in addition to his academic studies, wrote in magazines and newspapers such as Ocak, Töre, Devlet, Hasret, Genç Arkadaş before September 12, 1980. Later, his articles were published in Türk Yurdu magazine. He has two books and many articles on the Turkish world.
Orhan Kavuncu, who also worked in non-governmental organizations, was a member of the Turkish Agricultural Engineers Union, Ülkü-Bir and Ülkü-Tek Board of Management before 1980. He held assumed positions in Turkish Hearths (Türk Ocakları) between 1985-1993 and 2005-2013. Between 2000-2002, he was the President of the European Nizam-ı Alem Organisation in Germany.
Kavuncu also got involved in politics for a period, served as the BBP (The Great Unity Party) Adana deputy in 1995-1999 and held various positions in the BBP Headquarters until 2003.
Orhan Kavuncu, who is currently the member of Turkish Hearths Education and Culture Foundation (TOEK) and president of Turkey Uzbekistan Friendship Group (TODD), is married and has three children and eight grandchildren.